Setting Up A Sturdy Handrail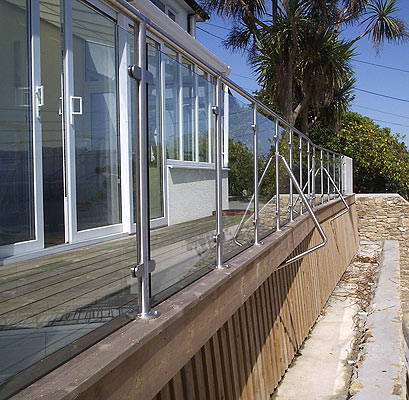 You should always have a handrail on your deck steps to prevent accidents and improve overall safety. Your handrail should match your deck's décor and the exterior of your home. Stair railings are available in a variety of materials including, wrought iron, aluminum, vinyl and wood, and they are easy to install on your own. Before you get too far into the project, you should check your local building codes to determine what the local ordinance is for stair railings in your area. Different areas have different requirements for railing heights and how they are supported and braced. Be sure to check before you begin purchasing the supplies and installing your deck stair railing to make sure you are in compliance. What You Need
Measuring Tape
Drill
Hand Saw
Socket wrench
Stair railing components
How to Set Up a Sturdy Handrail
Step 1 – Measure the total rise of your stairs, from the surface of the upper floor to the surface of the ground below the stairs. Next, measure the total run of the stairs by measuring from the back of the top stair all the way to the back of the bottom stair.
Step 2 – Measure the linear feet angle from the top to the bottom to determine the length of railing you will need to buy. To calculate this number, measure from the front of the top stair to the front of the bottom stair. If you plan to extend the railing to a wall or past the stairs, add that length to your measurement now.
tep 3 – Take all these measurements with you to the stair railing section of your local hardware or home improvement store. Look for a kit that includes rails to save yourself time and effort in having to build the rails yourself. A standard staircase kit should include posts, railing, rail caps, post caps and hardware.
Step 4 – Remove the posts that came with the stair railing kit, or use some 2x4 posts. Align them with the uppermost and bottom staircase tread right on top of the stairs. Bolt the posts in place with the included hardware so that the staircase kit is aligned with your stairs.
Step 5 – If you bought an iron staircase railing, all you need to do is bolt the top part of the railing into the platform railing.
If using a wooden railing, screw or bolt the wooden railing to the posts. Trim any excess at the top of the landing to fit your post on your deck or patio.
Step 6 – Finally, screw or bolt any post caps or rail caps that were included in your stair railing kit..
With these steps, you can have a sturdy and secure railing on your deck staircase in just one afternoon..
Ready Market team is capable of providing more details of "handrail" and take care of the entire purchasing process for you. Please fill out the Inquiry Form or click Ready-eSupport icon to chat instantly.