Stainless Steel End - Cap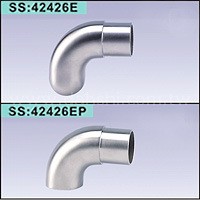 inquire now
Handrail End 90 Degrees ( SS:42426)
SS:42426
In Europe, even with their strict quality requirements, at Dah Shi, all stainless steel end-caps are supplied with international standards. In addition, Dah Shi insists to use stainless steel, which is recyclable and last forever.
Features
Easily install.
Nice appearance.
Safe.
Product ownership

Branded product: Yes.
Buyer's label offered: Yes.

Sample purchase: Yes.
Specification
Item No.
A
B
C
D
E
SS:1526A
Dia. 38.1mm
24mm
42mm
t 1.5 / 2.0mm
83mm
SS:2026A
Dia. 50.8mm
25mm
45mm
t 1.5 / 2.0mm
89mm
SS:33726E
Dia. 33.7mm
28mm
52mm
t 2.0mm
68mm
SS:42426E
Dia. 42.4mm
33mm
65mm
t 2.0mm
87mm
SS:48326E
Dia. 48.3mm
37mm
73mm
t 2.0mm
97mm
SS:33726EP
Dia. 33.7mm
28mm
52mm
t 2.0mm
54mm
SS:42426EP
Dia. 42.4mm
33mm
65mm
t 2.0mm
67mm
SS:48326EP
Dia. 48.3mm
37mm
73mm
t 2.0mm
75mm
Order Information
Minimum Order:200 pieces
FOB:Keelung, Taiwan

Send an Inquiry