Rail Support Joiner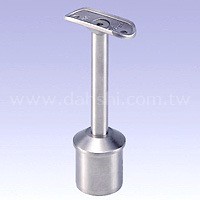 inquire now
Handrail Support Radiused ( SS:42480)
SS:42480
Perpendicular joiner flush railing fitting is designed based on over 40 years of experience. One-stop production and custom-made ability allowed Dah Shi to deliver their workpieces worldwide. It means all their handrail fittings meet international specifications and standards. Contact now to receive your best deal!
Features
Easily install.
Nice appearance.
Safe.
Product ownership

Branded product: Yes.
Buyer's label offered: Yes.

Sample purchase: Yes.
Specification
Item No.
A
B
C
D
F
G
H
Dia. R
SS:33780
Dia. 33.7mm
28mm
Dia. 5.2mm
t 2.0mm
Dia. 12mm
66mm
90mm
Dia. 33.7mm
SS:42480
Dia. 42.4mm
33mm
Dia. 5.2mm
t 2.0mm
Dia. 14mm
66mm
90mm
Dia. 42.4mm
SS:48380
Dia. 48.3mm
37mm
Dia. 5.2mm
t 2.0mm
Dia. 16mm
66mm
90mm
Dia. 48.3mm
Order Information
Minimum Order:100 pieces
FOB:Keelung, Taiwan

Send an Inquiry