Post Reducer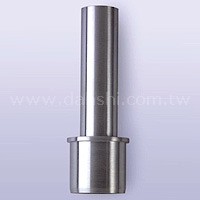 inquire now
Post Reducer Flat ( SS:42422A)
SS:42422A
Dah Shi designs stainless steel post reducer that is accurate, beautiful outlook, easy to install and precise made. One-stop production, hydraulic high speed punching machine and press machine for stainless steel sheets, pipe bending machines for tubes and pipes, etc.
Features
Easily install.
Nice appearance.
Safe.
Product ownership

Branded product: Yes.
Buyer's label offered: Yes.

Sample purchase: Yes.
Specification
Item No.
A
B
C
D
H
SS:1522A
Dia. 38.1mm
24mm
Dia. 25.4mm
t 1.5mm
90mm
SS:2022A
Dia. 50.8mm
25mm
Dia. 25.4mm
t 2.0mm
90mm
SS:33722A
Dia. 33.7mm
28mm
Dia. 19mm
t 2.0mm
90mm
SS:40022A
Dia. 40.0mm
31mm
Dia. 22.2mm
t 2.0mm
90mm
SS:42422A
Dia. 42.4mm
33mm
Dia. 25.4mm
t 2.0mm
90mm
SS:48322A
Dia. 48.3mm
33mm
Dia. 25.4mm
t 2.0mm
100mm
Order Information
Minimum Order:500 pieces
FOB:Keelung, Taiwan

Send an Inquiry