Stainless Steel Ball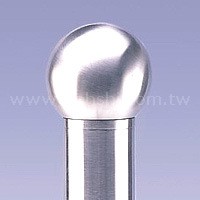 inquire now
Stainless Steel Ball ( S:2 inch Ball)
S:2 inch Ball
Dah Shi's handrail fitting component, stainless steel ball, is easy to install and there's no need for on-site welding, grinding or polishing. Precision stainless steel ball's size is varied as shown below.
Features
Easily install.
Nice appearance.
Safe.
Product ownership

Branded product: Yes.
Buyer's lable offered: Yes.

Sample purchase: Yes.
Specification
Item No.
A
B
H
S:1 1/2 inch Ball
Dia. 38.1mm
M8
68 / 78 / 88mm
S:2 inch Ball
Dia. 50.8mm
M8
81 / 91 / 101mm
S:2 1/2 inch Ball
Dia. 63.5mm
M8 / M10
93.5 / 103.5 / 113.5mm
S:3 inch Ball
Dia. 76.2mm
M8 / M10
106.2 / 116.2 / 126.2mm
S:3 1/2 inch Ball
Dia. 88.9mm
M8 / M10
119 / 129 / 139mm
S:4 inch Ball
Dia. 101.6mm
M8 / M10 / M12
131.6 / 141.6 / 151.6mm
S:4 1/4 inch Ball
Dia. 108.0mm
M8 / M10 / M12
138 / 148 / 158mm
S:5 inch Ball
Dia. 127.0mm
M8 / M10 / M12
157 / 167 / 177mm
S:6 inch Ball
Dia. 152.4mm
M8 / M10 / M12
182.4 / 192.4 / 202.4mm
S:8 inch Ball
Dia. 203.2mm
M8 / M10 / M12
233.2 / 243.2 / 253.2mm
Order Information
Minimum Order:100pieces
FOB:Keelung
OEM/ODM Product Branded Product Buyer's Label Offered

Balustrade Decorative Accessory ( SS:324)

Send an Inquiry