Stainless Steel Base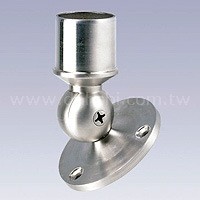 inquire now
Adj. Rail Support Round Base Internal Fit ( SS:42475)
SS:42475
At Dah Shi's factory, there are hydraulic high speed punching machines and press machines in order to make stainless steel bases. With over 1,000 mold selection and 40 years of handrail fitting design experience, reasonable cost and high standard design is conducted.
Features
Easily install.
Nice appearance.
Safe.
Product ownership

Branded product: Yes.
Buyer's label offered: Yes.

Sample purchase: Yes.
Specification
Item No.
A
B
C
D
E
F
G
H
SS:315AC - 1 inch
Dia. 25.4mm
19mm
Dia. 19mm
t 1.2 ~ 2.0mm
t 5.0mm
Dia. 5.2mm
Dia. 60.3mm
31mm
SS:315AC - 1 1/4 inch
Dia. 31.8mm
26mm
Dia. 21mm
t 1.2 ~ 2.0mm
t 5.0mm
Dia. 5.2mm
Dia. 63.5mm
34mm
SS:315AC - 1 1/2 inch
Dia. 38.1mm
29mm
Dia. 25mm
t 1.2 ~ 2.0mm
t 5.0mm
Dia. 5.5mm
Dia. 76.2mm
41mm
SS:315AC - 2 inch
Dia. 50.8mm
38mm
Dia. 32.5mm
t 1.2 ~ 2.0mm
t 5.0mm
Dia. 5.5mm
Dia. 101.6mm
51mm
SS:33775
Dia. 33.7mm
28mm
Dia. 29mm
t 2.0mm
t 4.0mm
Dia. 5.5mm
Dia. 64.8mm
48mm
SS:42475
Dia. 42.4mm
33mm
Dia. 36.5mm
t 2.0mm
t 5.0mm
Dia. 5.5mm
Dia. 74.6mm
60mm
SS:48375
Dia. 48.3mm
37mm
Dia. 42.4mm
t 2.0mm
t 5.0mm
Dia. 5.5mm
Dia. 82.4mm
67mm
Order Information
Minimum Order:200 pieces
FOB:Keelung, Taiwan

Send an Inquiry