Foot Rest for Bar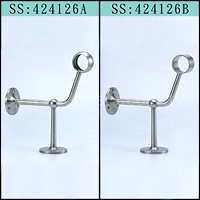 inquire now
Bar Foot - Rest ( SS:424126A)
SS:424126A
Custom bar foot rail - regardless bar foot rest's height, design or idea, Dah Shi's over 40 years of rail fitting design experience allowed them to build safe and fashionable foot rails with reasonable costs. It would be easy to install, maintain and ther on-site welding, grinding or polishing requirement.
Features
Easily install.
Nice appearance.
Safe.
Product ownership

Branded product: Yes.
Buyer's label offered: Yes.

Sample purchase: Yes.
Specification
Item No.
A
B
C
D
E
F
G
J
H
SS:337126A
Dia. 33.7mm
Dia. 64.8mm
4.0mm
Dia. 16mm
124mm
125mm
208mm
Dia. 12mm
231mm
SS:424126A
Dia. 42.4mm
Dia. 74.6 mm
5.0mm
Dia. 16mm
125mm
126mm
211mm
Dia. 12mm
236mm
SS:483126A
Dia. 48.3mm
Dia. 82.4mm
5.5mm
Dia. 16mm
126mm
126mm
211mm
Dia. 12mm
240mm
SS:337126B
Dia. 33.7mm
Dia. 64.8mm
4.0mm
Dia. 16mm
124mm
125mm
207mm
Dia. 12mm
228mm
SS:424126B
Dia. 42.4mm
Dia. 74.6 mm
5.0mm
Dia. 16mm
125mm
126mm
211mm
Dia. 12mm
233mm
SS:483126B
Dia. 48.3mm
Dia. 82.4mm
5.5mm
Dia. 16mm
126mm
126mm
211mm
Dia. 12mm
236mm
Order Information
Minimum Order:500 pieces
FOB:Keelung, Taiwan

Send an Inquiry