Stainless Steel Square Fitting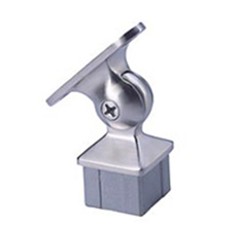 inquire now
Adjustable Rail Support Radiused Internal Fit (SS:40018SQ, SS:40018SQ-B)
SS:40018SQ, SS:40018SQ-B
Parts are to be put together, with easy and convenient assembling methods; no on the site welding, grinding, or polishing. The stall that Dah Shi is seeking is easy, convenient, and immediacy. Providing products make of various materials and surface treatment, able to meet the demands by the designers and the architects. The perfect combination brings you the delight of visual.
Features
Easily install.
Nice appearance.
Safe.
Product ownership

Branded product: Yes.
Buyer's label offered: Yes.

Sample purchase: Yes.
Specification
ITEM NO.
A
B
D
E
F
G
H
SS:19018SQ
19.0mm
18.0mm
1.5mm
65mm
24mm
5.5mm
34mm
SS:25418SQ
25.4mm
20.0mm
1.5mm
70mm
25mm
5.5mm
39mm
SS:30018SQ
30.0mm
22.0mm
1.5mm
70mm
26mm
5.5mm
44mm
SS:40018SQ
40.0mm
25.0mm
2.0mm
75mm
28mm
5.5mm
58mm
SS:50818SQ
50.8mm
31.0mm
2.0mm
85mm
30mm
5.5mm
70mm
SS:19018SQ-B
19.0mm
18.0mm
1.0~1.5mm
65mm
24mm
5.5mm
34mm
SS:25418SQ-B
25.4mm
20.0mm
1.0~1.5mm
70mm
25mm
5.5mm
39mm
SS:30018SQ-B
30.0mm
22.0mm
1.0~1.5mm
70mm
26mm
5.5mm
44mm
SS:40018SQ-B
40.0mm
25.0mm
1.2~2.0mm
75mm
28mm
5.5mm
58mm
SS:50818SQ-B
50.8mm
31.0mm
1.2~2.0mm
85mm
30mm
5.5mm
70mm
Order Information
Minimum Order:200 pieces
FOB:Keelung, Taiwan

Send an Inquiry